Meet Dr. Tompkins
---
Dr. Sims Tompkins grew up in the orthodontic profession and saw the love that his father had for his practice and patients. Dr. Tompkins knew from an early age that orthodontics was what he wanted to do. His dad was an extremely skilled orthodontist and Dr. Tompkins is fortunate to have inherited some of his traits.
When asked what is so special about orthodontics, Dr. Tompkins is quick to tell you that he can truly say he enjoys going to work every day because of his patients.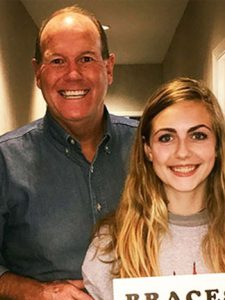 Experience
Dr. Tompkins embarked on his career in orthodontics in the fall of 1988. Instead of beginning from scratch with no patients, he joined his father's orthodontic practice that was established in the 1960s. His father's legacy for exemplary orthodontic treatment and his warm chairside manner will always be remembered, and it is a great tribute to him that we continue to see many of his former patients' children in our practice today.
Dr. Tompkins has been in practice for more than 20 years, and he is always excited to see his patients! Without them, we would not be here. Dr. Tompkins and his staff always have smiles on their faces because they love what they do and are here for the patient.
Family and Community
Dr. Tompkins is a Columbia native and is proud to serve the people of his hometown. He and his lovely wife Libby have three sons: Sims, Rush, and Griff. Two Black Labs and a Golden Retriever complete their family and keep them busy!
In his spare time, Dr. Tompkins enjoys all outdoor activities, especially golf and tennis. He also enjoys being an active part of our community, and volunteers several times a year at the Richland County and Lexington County Children's dental clinics. He is also a member of the South Carolina Center for Craniofacial Disorders, which offers children with congenital anomalies a multidisciplinary approach for diagnosis and treatment. Dr. Tompkins is also a past president of the Palmetto Baseball League, for which he coached for 12 years.
Education
Continuing Education
As a dental professional, Dr. Tompkins is always looking for ways to improve his skills. Although his formal orthodontic education is complete, he is always searching for new methods that will provide his patients with a more comfortable and efficient orthodontic treatment. As a part of his continuing education, he is an active member of the following professional organizations: